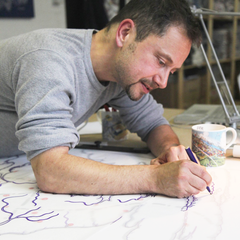 The Artist - Hartwig Braun
Hartwig is a Fine-Arts Artist specialising in design- led illustrative works. He uses his architectural background and discoveries as a passionate urban flaneur as well as love for buildings, geography and the natural world to create detailed and engaging cityscapes and illustrated maps.
"I have always had a passion for the Metropolis. As an architect, I combine my knowledge of structures to unravel the essence of the city together with artistic freedom to create these stylistic cityscapes and cultural icons from around the globe" - Hartwig Braun
You can read more about the drawing process here.
Read More About Hartwig Braun
Our Gallery & Shop at Greenwich Market
Arty Globe launched at Greenwich Market London in 2008, starting life in the form of a weekend market stall. In April 2009 the business expanded to a retail unit in the same location and now resides in a lovely two story retail unit at 15 Greenwich Market.

The ethos behind the business and brand is to make Hartwig's unique & playful artwork accessible to a wider audience in the form of art for the wall, jigsaw puzzles, homeware, accessories, stationery, quality gifts and other products that are largely UK produced, with all designs hand-drawn and illustrated by Hartwig in his playful yet very accurate signature style.
Arty Globe by Hartwig Braun
15 Greenwich Market
Greenwich, London SE10 9HZ
Tel: +44 (0)20 7998 3144
Email: shop@artyglobe.com
Open Monday, Wednesday, Thursday, Friday, Saturday & Sunday - 11:00 to 18:00
Closed on Tuesday